6 days of travelling in the Atlas mountains and enjoying life in the countryside, and getting closer to the lives of the residents of these wonderful villages. From the first day of trekking you will be immersed in everyday Berber life watching the locals working in their terraced fields and tending to their animals.
This itinerary involves early starts and strenuous trekking days, moving from camp to camp each day but you will be rewarded with many fine photo opportunities, in particular at the summit of Jebel Toubkal 4167m. At the end of the day you will be able to relax in village cafes and enjoy a cup of mint tea or paddle alongside refreshing rivers and the turquoise shores of Lac D'ifni 2295m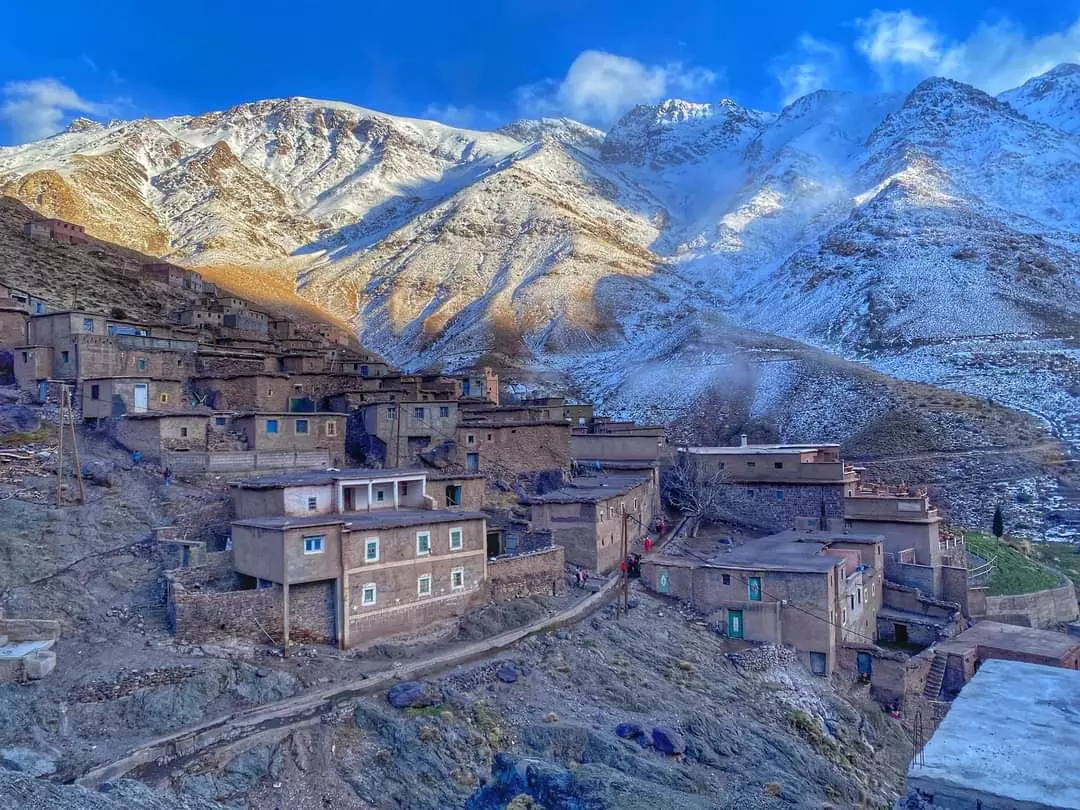 further discounts are aavailable according to the GROUPE SIZE

Mules and muleteers to carry your luggage.

Porters for luggage from snowline to the mountain huts ( Winter months)

Berber Cook

All meals on the hike

Expert- Berber, English, Spanish - speaking mountain guides

Accommondation for trekking duration

Camping Materiel ( Tents & Mattress)
Travel insurance.

Soft/alcoholic drinks

Tips and personal expanses.
Day 1 : Marrakech – Imlil – Tacheddirt :
We leave Marrakech after breakfast and drive to Imlil via Asni. Imlil is the principal trailhead for walkers, and a busy market town. There is a constant movement of people coming down from the mountains, and an equal supply of activity from those about to embark on their adventure. We meet our mule team and once all our gear is loaded we begin walking along the valley towards Tacheddirt, some 8kms beyond Imlil. Soon the trail begins to rise as we climb up to the pass at Tizi n'Tamatert (2,279m). We then descend to the pretty village of Ouaneskra and continue, for a further half-hour or so, to Tacheddirt (2,300m), where we generally camp near the river. Meals included : 1 breakfast, 1 lunch, 1 dinner. 6hours total
Day 2 : Tacheddirt – Azib Likemt :
Crossing the valley we begin a long, slow ascent to the pass at Tizi Likemt (3,555m). The going is quite tough as there is a considerable amount of loose scree on the ground. At the top we enjoy our first fine view of the Toubkal massif before a long downhill descent to the village of Azib Likemt, where we camp for the night. 6 to 7hours
Day 3 : Azib Likemt – Tizi n'Ourai – Amsouzert :
This long, but relatively easy, day takes us through a variety of contrasting landscapes. From Tizi n'Ououraine (3,120m) we enjoy further views of the Toubkal massif, including the summit, the east face and the Ifni Dome (3,876m). The trail leads on towards Amsouzert, one of the most striking villages in the region, where we spend the night – dormitory-style – in a simple village Gite. 7 hours
Day 4 : Amsouzert – Ifni Lake :
West of Amsouzert are several small villages, which we explore as we make our way towards Ifni Lake, the only lake in the massif. It is a memorable sight, surrounded by rocky mountains and giant heaps of rubble, and is unusually deep. We expect to arrive by lunchtime and spend the afternoon relaxing at the shore. We camp tonight in this area. 4 to 5hours total
Day 5 : Ifni Lake – Toukal refuge :
By now we should be both fit and acclimatised, and ready to tackle the hardest day of the trek. We make our way along a steep path that leads up a seemingly endless scree slope. At length we reach the pass at Tizi n'Ouanoums (3,664m), a narrow ledge between two shafts of rock. From here it is a long zigzag descent to Nelter Hut, a mountain refuge where we spend the night (or alternatively camp outside). 6 to 7 hours
Day 6 : Mt. Toubkal Summit – Imlil :
We leave before dawn, following a well-worn route to the summit. If conditions are good it should take no more than 2-3 hours to reach the summit, where we enjoy expansive views of the entire Atlas range and the Marrakech plains beyond. Returning to base, we then descend fairly rapidly to the villages of Sidi Chamharouch and Aremd, before following the Mizane River, along a well-forested trail, to the trailhead at Imlil. If you are staying in Marrakech, you will be taken there by car at the end of the day. 9 to 10hours